DESERT - SOME INTERESTING FACTS
The dry conditions in deserts occur due to the lack of rain and snow, which is usually less than 25 cm (9.8 in) in a year. The driest desert on Earth is the ATACAMA , Chile, where in many parts there has not been any rainfall in living memory.
ATACAMA DESERT, CHILE
HOW TO IDENTIFY A DESERT?
Check the rock features around you. They should be eroded by very strong winds and extreme temperatures.
Examine the terrain. It should be bleak - sand, rocks, and stones and , in polar deserts, snow.
Try to find surface water. No luck? That's a good sign you are in a desert.
Make sure there is little or no vegetation - just tough desert plants.
Look up. You should see clear blue skies with not a rain cloud in sight.
TOP FIVE LARGEST DESERTS:
SAHARA - NORTH AFRICA : 9,100,000 sq km
AUSTRALIAN - AUSTRALIA : 3,400,000 sq km
ARABIAN PENINSULA - SOUTH WEST ASIA : 2,6000,000 sq km
TURKESTAN - CENTRAL ASIA : 1,900,000 sq km
GOBI - CENTRAL ASIA : 1,300,000 sq km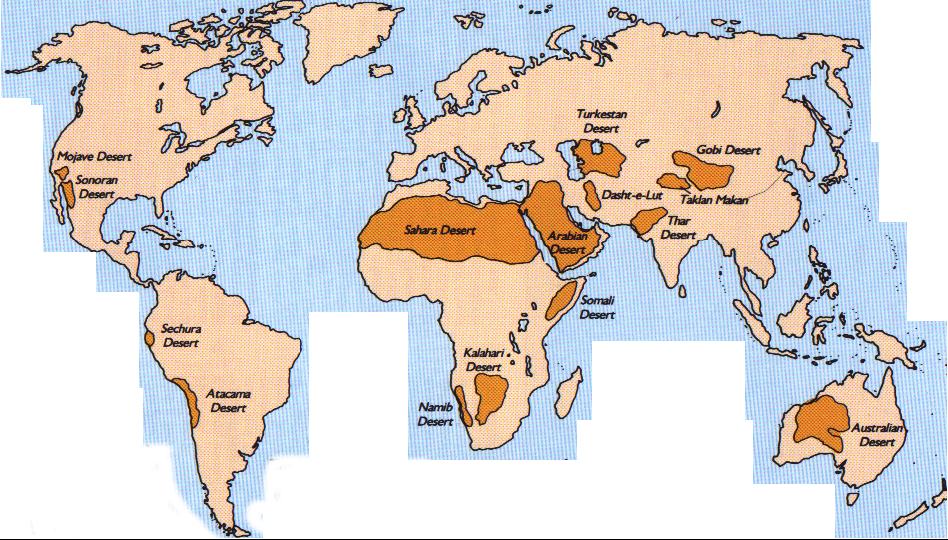 DESERTS OF THE WORLD
Not everyone agrees that ANTARCTICA is a desert, but it certainly dry - some valleys here have not had rain for 4 million years. It is bigger than the Sahara, with an area of 13.7 million sq km.
The world's largest hot desert is the size of the USA and covers 11 North African countries. Some of them are Algeria, Chad, Libya, Mauritania, Mali, Niger, Sudan, Tunisia, Egypt, Morocco, Mali & West Sahara.






HOT DESERTS are found close to the tropics, where the Sun's rays are strongest. The highest temperature ever recorded was at Al'AZIZYAH, LIBYA, in the Sahara Desert when the heat soared to a head-melting 57.8 degrees C (136 degrees F) Hot deserts are freezing at night because there are no clouds to trap the Earth's heat.
COLD DESERTS have hot summers but extremely cold winters - in the GOBI DESERT, in Central Asia, temperatures can drop to -40 degrees C (-40 degrees F).
1.ERG: Arabic word for an extensive ares of sand dunes, such as those found in the SAHARA.
2. PLAYA: An almost flat area in the centre of a basin in which lakes form periodically.
3. BUTTE: A flat-topped hill with steep sides capped with a layer of resistant rocks.
4. INSELBERG: An isolated hill with steep sides that stands out above the plains of the desert.
5. ARCH: Stunning creation formed by whirling winds blasting at rock and wearing it away.
6. WADI: A steep-sided valley formed by a river in a semi-arid or arid desert region.
SURVIVAL TIPS :
COVER UP: Wear light clothes and a hat to protect you from the Sun and insects, and to reduce evaporation of sweat.
KEEP DRINKING: Dehydration and overheating are the greatest dangers.
FIND SOME SHADE:Don't shelter inside a hot, stuffy vehicle, but in its cooler shadow.
DO NOT TRAVEL: Stay put in the heat of the day, and only travel at dusk or dawn.
KEEP OFF THE GROUND: Try not to sit or lie on the ground where it's hot, and where scorpions, spiders, and snakes may lurk.
SPOOKY DESERT NAMES:
DEATH VALLEY, USA: The country's hottest landscape is breathtaking.
TAKLA MAKAN, CHINA: Means "you can get in, but you'll never get out", also nicknamed "SEA OF DEATH".
SKELETON COAST, NAMIBIA: Named after the wrecks of ships, not people, that line the dunes where desert meets the sea.
FIVE THINGS WE CAN DO IN A DESERT:

1. STORE PLANES: The Sonoran Desert in the United States of America is a graveyard for thousands of disused planes.


3.HARVEST SALT:
A vast amount of salt is harvested in the Salar de Uyini desert in Bolivia, South America.