TOP 10 MOST EXPENSIVE ITEMS SOLD IN AN ACUTION
A question quite often asked by antique collectors is ,'WHAT ARE THE MOST EXPENSIVE ITEMS SOLD IN AN AUCTION?' Here is the answer to the question. No comic books, action figures and licensed collection come near this list :-
One of he most expensive items ever auctioned on eBay was a GIGAYACHT, which sold for a record-breaking US $ 168 million. The 405 ft boat was designed by naval architect FRANK MULDER and sold by a Florida company called 4 YACHT. It came complete with a helicopter garage and 14 multi-level VIP suites.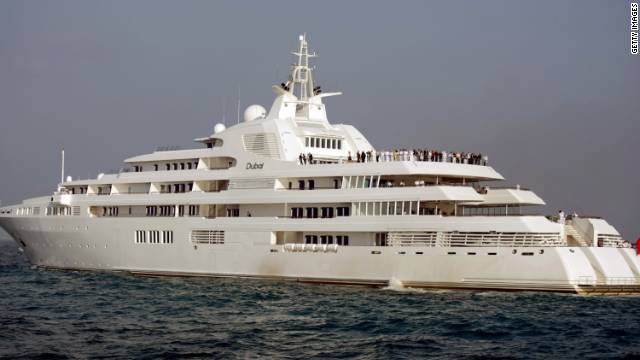 This painting was sold in Christie's New York, on 4th May 2010 for US $ 106,482,500 .This painting is from a series of paintings from Picasso muse - Mary Therese Walter, made by the artist BOISGELOUP.
This sold in SOTEHBY'S London on February 3 2010 for $ 103,700,000. It is a sculpture of an etiolated life-size figure of a man walking, made by ALBERTO GIACOMETTI.
This vase sold for $ 53 million. This is the most expensive Chinese vase that was sold at BAINBRIDGES AUCTION HOUSE in just 30 minutes of bidding. It was actually an 18th century origin that believed to be in [resent during the QING DYNASTY, under the reign of the 4th emperor. It is 16 inches tall.
The most expensive single jewel ever sold at auction THE GRAFF PINK was named by its new owner, LAURENCE GRAFF, after its 2010 purchase. With a pre-sale estimate of US $ 27 - 35 million, the emerald-cut pink diamond had been sold by American jeweler Harry Winston to a private collector in the 1950's.
The 18th century badminton cabinet, made of EBONY WOOD inlaid with precious gems, was sold at CHRISTIE'S on December 9 2004 for a whooping sum of $ 36,662,106. It has set the record twice for the most expensive furniture sold. This cabinet was made by 30 people and it took 6 years to complete the work, under the supervision of HENRY SOMERSET, 3rd DUKE OF BEAUFORT, at the age of 19.


The manuscript god sold for $ 30,802,500. Leonardo da Vinci has often been described as the ultimate Renaissance man - not only considered one of the greatest painters of all time, but also a scientist, mathematician, engineer, inventor, botanist and musician. During his lifetime, Leonardo meticulously recorded his thoughts, ideas and sketches in journals and THE CODEX LEICESTER is probably the most famous of these scientific journals. When BILL GATES purchased the 72 page handwritten document in 1994, it became the most expensive book ever sold. Three years after buying it, Gates released a digitally scanned version to be distributed as wallpaper and screensaver files.
Leonardo was not always as successful as we think of him today. Throughout his life he was plagued by a sense of failure, in-completion and time wasted. His favorite phrase, which he unconsciously repeated to himself whenever he scribbled something to see if a newly cut pen was working was,"Tell me, tell me if anything got finished."
The Ferrari 250 GTO is considered one of the most revered cars in histroy, so much so that people with very, very deep pockets will line up and bid in the "7-0's" just ot be able to own one. In 2012 December , one of the only 39 model of the iconic Ferrari sports car was put up for auction. Lo and behold, the bids came at a feverish rate before the vehicle was scooped up for a reported $ 32 million.
It was sold by a British man JOHN HUNT. The car itself carries chassis number '5095' and comes with a 3.0 liter V 12 engine that produces 300 horsepower while carrying a 0-60 mph time of 6.1 sec and a top speed of 14 mph.
In 2007, Artemis and the Stag became the second highest priced sculpture ever to be sold at auction when an anonymous buyer purchased the relic for $ 28.6 million. The sculpture is over 2,000 years old and was built during the Roman empire. In the 1920's a team of construction workers stumbled upon it while digging in Rome, and they must be kicking themselves for not holding onto it now. The winning bid came as a surprise to some curators, who predicted it would sell for $ 7 million.
This historic violin was sold at TARISIO AUCTION HOUSE for $ 15,894,000. Confronted by the tragic events of the 11 March 2011 earthquake, tsunami and resulting nuclear crisis, the NIPPON MUSIC FOUNDATION made an extraordinary offer to assist in the recovery efforts of their native JAPAN. They decided to sell the most finest violin of their collection, THE 'LADY BLUNT' STRADIVARIUS OF 1721 and pledged the entire proceeds of the sale to The Nippon Foundation's Northeastern Japan Earthquake and Tsunami Relief Fund. VERY GENEROUS INDEED!