MONEY MAGAZINE HAS NAMED AMERICA'S BEST SMALL TOWNS TO LIVE
AMERICA'S TOP SMALL TOWNS
are not only booming economically, but also are wonderful places to
grow
with a family,cause it has good schools, green space and good sense of community.
1. SHARON, MA
TOP 50 RANK : 1
POPULATION : 17,944
Being surrounded by a wealth of good jobs in Boston, Providence & Route 128, this New England town has been able to insulate itself from the worst of the recession and ignited its rapid recovery. It is just a half-hour train ride from Boston or Providence, has the natural beauty of remote places. 40% if it still remain an open space and LAKE MASSAPOAG, is an apt place for family picnic and enjoyments.It has nine CHURCHES, seven SYNAGOGUES,and a very big MOSQUE.
2. LOUISVILLE, CO
TOP 50 RANK : 2
POPULATION : 18,924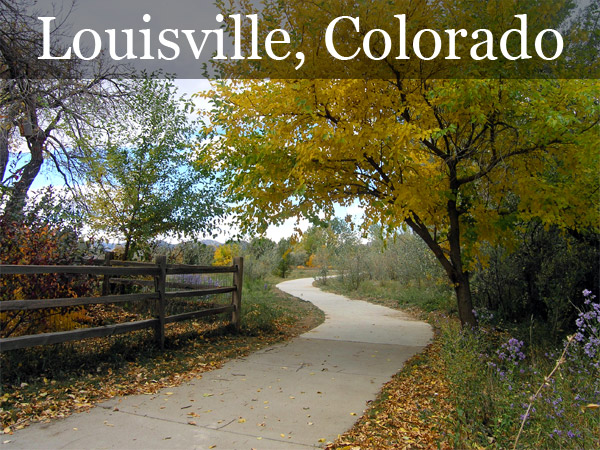 Selected to No. 1 place twice, Louisville comes back with a bang to the second best place in America. It is a very safe place to raise a family with good schools and a wonderful community. Job opportunities are good because of the technology rich DENVER-BOULDER corridor in-spite of the recession. The balance of WORK AND LIFE has no match as in Louisville. The Rocky mountains are just 20 minutes drive from the town. It has 1,800 acres of open space, and above all the COLORADO sunshine it something that no one can miss.
3. VIENNA, VA
TOP 50 RANK : 3
POPULATION : 16,285
Free walk ability, exclusive businesses and as a historic center, Vienna has its own identity. A 45 minute bike path and park built on the roadbed of a former railroad cuts right through the town. The down town is marked with homegrown eateries. The Real estate cost and taxes are the highest in the country. A three-bedroom can sell up to $600,000 and it is done only on bids. Then there is a traffic which is compulsory for a town near the capital.
4. CHANHASSEN, MN
TOP 50 RANK : 4
POPULATION : 23,685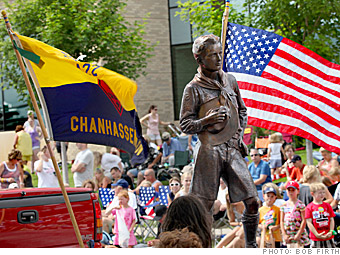 Though affected by the Minnesota's woes, the town is taking stern steps to bounce back a fresh, in order to improve. The towns schools offer Wi-Fi even in the buses, and $700,000 has been granted to improve classroom technical projects. The housing market is surging back. Jobs offers are going strong because of the nearby Minneapolis.Highlights of the town include - 1,137 acre of Minnesota Landscape Arboretum, 90 miles of trails and 34 parks. In winter there is the FEBRUARY FESTIVAL with ice-fishing, sledging and cock-outs.
5. SHERWOOD, OR
TOP 50 RANK : 5
POPULATION : 18,736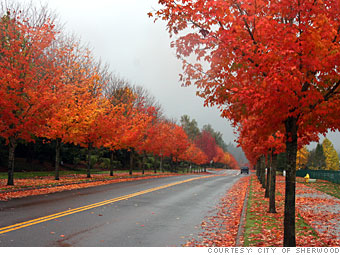 Quaint historic downtown, top-ranked schools, affordable home prices are some of the many reasons people love to stay in this small town just outside Portland. It is a town from which one can easily reach - Willamette Valley, Oregon Coast & Mount Hood. It also has the most acclaimed restaurants, microbreweries, museums and theaters. It is also a place quite close to those who want to work in Nike of Beaver-ton, Intel in Hillsborough, and a plethora of high-tech and medical jobs. Though it was hit hard by recession, it has made a strong comeback.
6. BERKELEY HEIGHTS, NJ
TOP 50 RANK : 6
POPULATION : 13,345
Just a 50 minute drive from the New York City, Berkeley Heights gives an easy access to a broad range of jobs. It is also home to ALCATEL LUCENT'S U.S. headquarters. New additions to the dining like Strega Bistro and Nagoya Sushi have added on to the towns attraction. The 2,000 acre Watchung Reservations gives the people a place to canoe, ride horsed and picnic.
7.MASON , OH
TOP 50 RANK : 7
POPULATION : 31,761
It houses famous industries like Procter & Gamble and Mitsubishi. It is also very close to Cincinnati and Dayton attracting a diverse workforce and the town has the best schools of Ohio.
8. PAPILLION, NE
TOP 50 RANK : 8
POPULATION : 19,837
Being just a 15 minute traffic free drive from Omaha, Papillion is a town regular in this list because of its safe streets, top-notch schools and is home for major employers in industries like financial services and health care. After Nebrask's largest credit union and Black Hills Energy moved their headquarters to Papillion, job opportunities have increased drastically.It has the most affordable stay, 13 parks, wealth of green spaces, 17 mile trail system, and a new AAA baseball stadium.
9. APEX , NC
TOP 50 RANK : 9
POPULATION : 40,205
People enjoy shopping and socializing in Aex's historic downtown, which hosts events like jazz festival and Peak City Pig Fest. There is 400 acres of parks, baseball diamonds and tennis courts. It has affordable homes and its real estate market is still growing. Apex has a steadily increasing population.
10. WEST GOSHEN, PA
TOP RANK : 10
POPULATION : 22,421
It is a town with a lush, suburban feel, with quiet, tree-shaded residential areas, lovely parks, and a full slate of community activities. America's largest shopping center - THE KING OF PRUSSIA MALL is just 20 minutes away from this town. It is an easy commute to Philadelphia, Wilmington, Del, Comcast and QVC. Home are quite expensive here.