TOP TEN MUSIC FESTIVALS OF ALL TIME
WOOD STOCK:
The mother of all modern-say music festivals, Woodstock was a moment in music history that has gripped the world ever since. Thirty-two acts, including such greats as JIMI HENDRIX, JANIS JOPLLIN, the GRATEFUL DEAD,the WHO & CROSBY, STILLS, NASH & YOUNG, performed over four days in August 1969 to a crowd of over half a million people on a dairy farm in rural Bethel, New York. The festival was one of the biggest rock events of all time and encapsulated the anti-war sentiments and flower-power culture of the era. Originally conceived by four young men as a business venture, it was eventually opened up to the public as a free concert when organizers feared they could not control the far-bigger crowds than excepted. Remarkable given the massive numbers of revelers, Woodstock has become an icon of the 1960's hippie counterculture of peace, love and rock 'n' roll.
TOP TEN MUSIC FESTIVALS:
1. GLASTONBURY FESTIVAL:
PILTON, SOMERSET, ENGLAND
Festival organizer Michael Eavis began hosting a music festival on his dairy farm in the early 1970's, when entry cost 1 pound. The festival featured special areas such as the Dance Village, the Green Fields, the Theatre and Circus fields, and Strummerville, alongside the main music stages, The next Glastonbury festival will take place in the summer of 2013, with 2012 being declared a 'fallow' year.
2. ROSKILDE FESTIVAL:
ROSKILDE, DENMARK
This four-day Danish festival has existed since 1971 and is one of the biggest in Europe. The Rockside Foundation runs the annual event as a non-profit organization for the development and support of music, culture and humanism. The once mainly Scandinavian crowd is now more international, with a 2011 festival attendee average age of 22.8 years.
3. ROCK AL PARQUE:
BOGOTA, COLOMBIA
The only South American festival to make the Top 10, this free three-day festival has been taking place since 1995. Originally devoted to rock and metal music, Rock al Parque has gradually diversified to represent other genres, including ska, punk and reggae, with an average of 50 national and international bands performing each year.
READING, UK: LEEDS, UK
Advertised as Europe's biggest and best dual-site event, this pair of annual music festival take place at different ends of England and shares the same bill over the same weekend in August. The Reading Festival is the worlds oldest popular music festival still in existence, and the original venue.
5. T IN THE PARK:
BALADO, KINROSS-SHIRE, SCOTLAND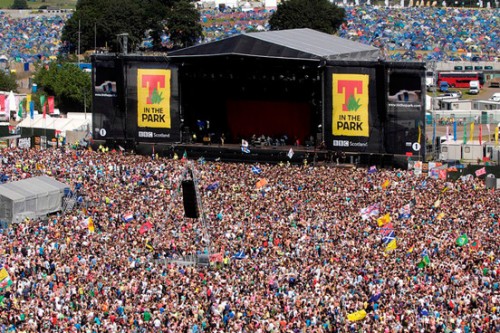 The three-day T in the Park music festival is Scotland's most successful outdoor music event. At 18 years old in 2011, the festival featured over 200 artists performing across 11 stages – more than four times its original size.
6. ROCK WERCHTER:
Belgium's largest festival, and one of the biggest rock festivals in Europe, began in 1974 as a one-day event. Since 2003, the festival has spanned four days. Featured artists in 2011 included Linkin Park, Coldplay, Kings of Leon, Portishead, A-Trak and Iron Maiden.



7. OXEGEN:
First held in 2004, Oxegen is widely regarded as Ireland's top music festival. Beyonce, Foo Fighters, Arctic Monkeys and Coldplay were among the headliners of the 2011 three-day event, which also featured 'The Headphone Disco' and a campsite cinema.
8. SUMMERFEST:
MILWAUKEE, WISCONSIN, USA
Located in the heart of the American Midwest, Summerfest is also known as 'The Big Gig' and is held along Milwaukee's lake front. Lasting up to 11 days, this eclectic festival is made up of 11 stages with performances from over 700 bands.
9. COACHELLA:
First held in 1999, in the grounds of a polo club and headlined by such acts as Beck, Morrissey, Tool and Rage Against the Machine, the event will expand to two weekends in its 13th year, with the same line-ups for both weekends.




10. SZIGET FESTIVAL:
With more than 1,000 performances from a range of different genres, the nearly week-long Sziget Festival has been described as the 'Burning Man' Festival (Nevada, USA) of Europe, and enjoys a reputation as an arts and music festival. Held every August on an island of the Danube River in the middle of Budapest, the festival is popular with west Europeans.
PINKPOP FESTIVAL:
One of the world's oldest music festivals, and Netherland's best know festival, Pinkpop has been rocking since 1970. Over the three days, approximately 40 artists perform across three stages.